Welcome To the West Grove Fire Company!!!
Become a Volunteer Today!!

The West Grove Fire Company is a volunteer organization that is supplemented by career staff for our EMS and Fire operations and we welcome and encourage new volunteer members. Please feel free to fill out our on-line membership application. If you would like to pick up an application in person stop by one of our fire stations either in West Grove, New London or in London Britain twp, click here for directions. We meet Monday evenings at 6:30 pm for training and on the 2nd Wednesday of every month at 7 pm at our West Grove station for our business meetings. If you see someone at the firehouse feel free to stop in anytime. Even if you do not have interest in responding to ambulance or fire calls, there are a number of roles for which we need assistance, including building maintenance, public relations, community education, vehicle maintenance, bookkeeping, fundraising, etc. We welcome all kinds of people to membership -- this is your community fire company and it needs volunteers to make it successful.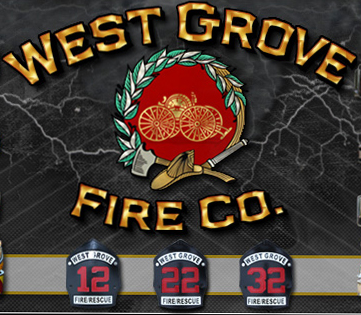 Click here or click on the logo above for a copy of our membership application.
Membership questions can be addressed to our Membership Secretary @ Membership@wgfc.org
Please consider joining today!