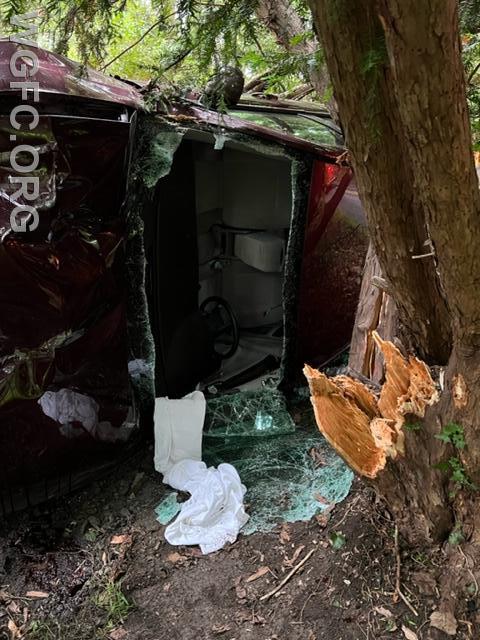 After the crash, this picture shows broken tree limbs, and the windshield removed.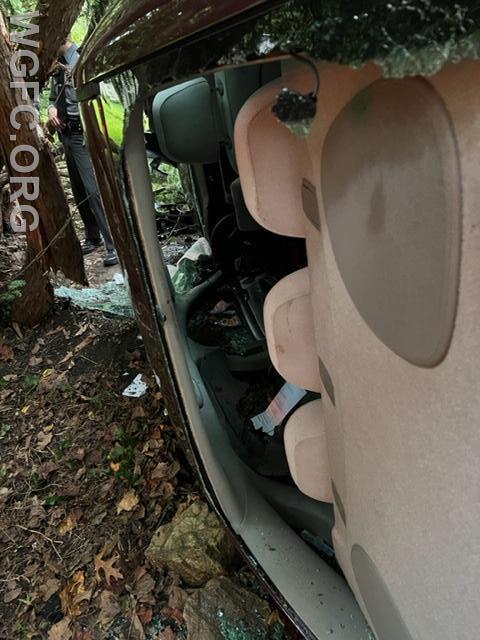 With the rear window removed, the victim was able to slide out of this narrow space to get out of the vehicle.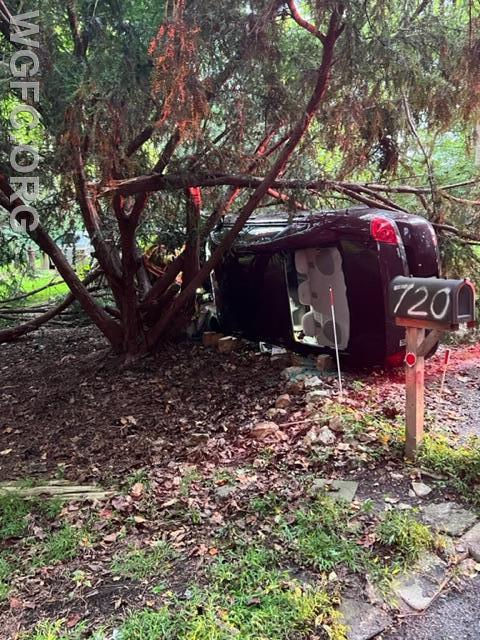 A view of the car on its side, just off Chambers Rock Road.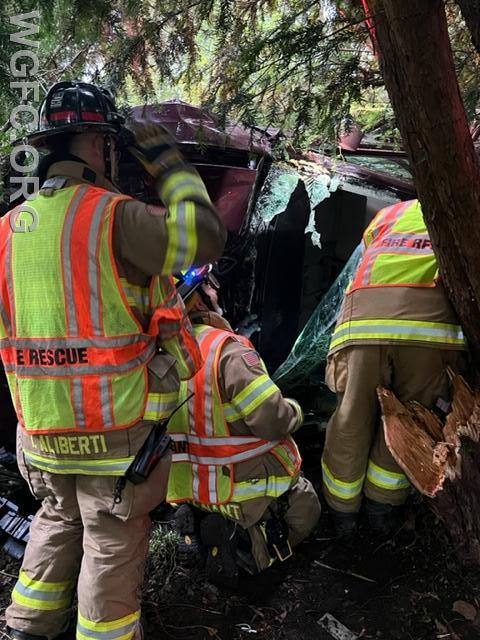 Crews remove the front windshield.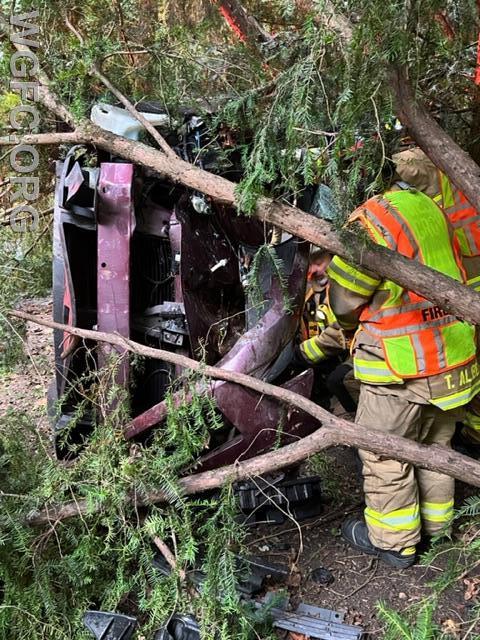 Crews work around the front of the crashed car.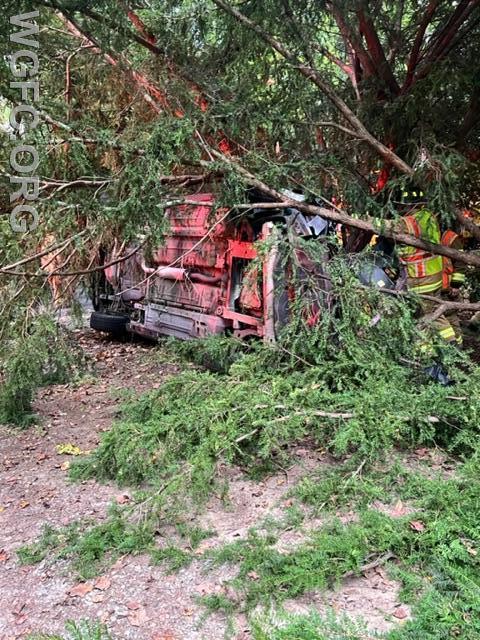 This view shows how entangled the car was in the tree, with several large branches broken off and thrown away from the crash.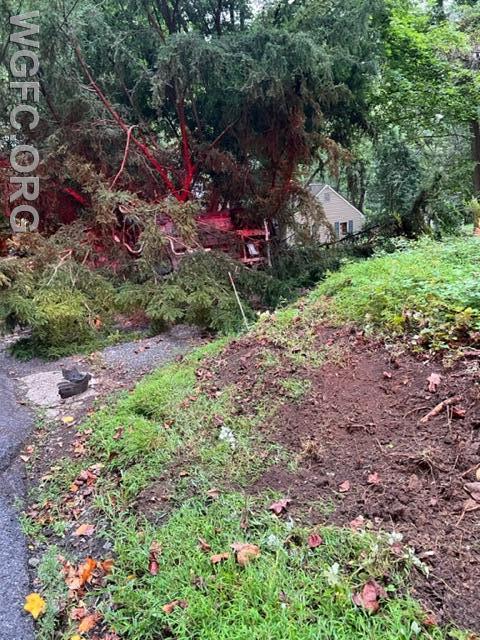 The crashed vehicle struck this embankment, rolled on its side and hit the tree.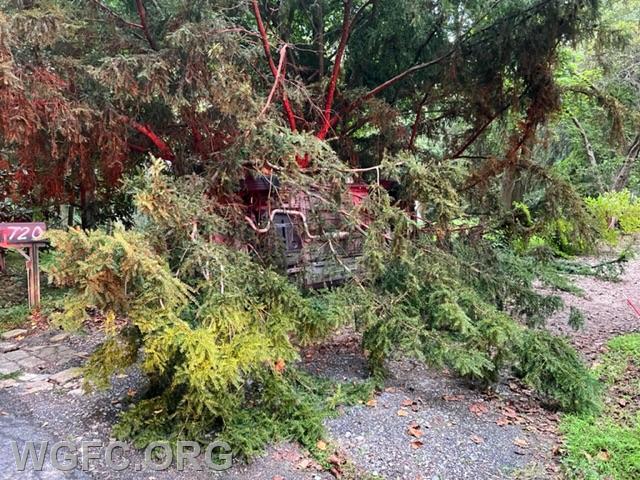 There is a car in there...really!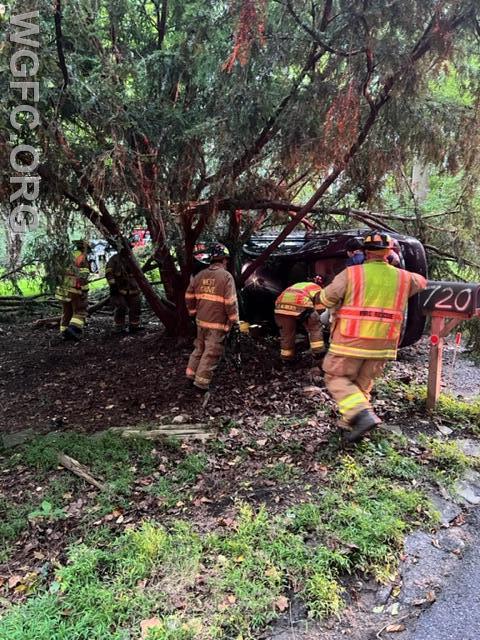 WGFC firefighters stabilize a car on its side, with a victim trapped, on Chambers Rock Road.
September 12, 2022

At 6:57am Sunday morning, West Grove Fire Company pagers alerted for a reported car vs. tree accident on Chambers Rock Road in London Britain Township. As firefighters began their response, the call was upgraded to entrapment, adding Medic 94. The crash was located on Chambers Rock Road, just east from Ann's Way.

The WGFC responded with Engines 22-1, 22-3, Rescue 22, Utility 22, Ambulance 22 and fire police. WGFC firefighters had just left the fire station in London Britain to go to a Memorial 9-11 event in Lancaster and re-directed to the call. Utility 22 arrived with the ambulance to report a car on its side, against a tree off the roadway, with one victim trapped inside.

Engine 22-3 arrived from the London Britain station, with the crew beginning immediately to work to stabilize the car with chocks and portable stabilization struts. EMS crews were talking with the patient who could not get out of the car due to the vehicle's entanglement in the trees and it being on its sid. Firefighters removed the rear window, which allowed the patient to get out of the car and be treated by 22 and 94 personnel, and, ultimately, be transported to the Christiana Hospital. The patient was out of the vehicle about ten minutes after the arrival of the first WGFC engine.

During the incident, fire police had Chambers Rock Road closed, with WGFC units on scene about one hour.

Units:
Ambulance 22, Utility 22, Engine 22-1, Engine 22-3, Rescue 22, WGFC Fire Police
Mutual Aid:
Avondale State Police